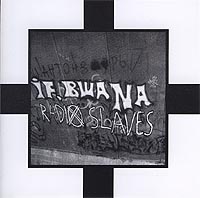 Radio Slaves
Idiosyncratic as hell, Al Margolis' music must have told something strange to the mind of some director at WDR Köln Radio, commissioners of the American composer in 2006. Upon hearing the material, the liners explain, they stated that it sounded too "new music-y", deciding against broadcasting it. Did these people really believe that If, Bwana would supply them with a neo-classic score? As Mr. Wilson said, god only knows. The CD features two compositions, both based on Lisa Barnard's utterances. The title track, subdivided in four movements, was generated by a 16-minute improvisation that AM/IB "duplicated and extended"; then he gave different tracks to flutists Jacqueline Martelle and Jane Rigler to interact with, assembling all the parts in a nightmarish patchwork complete with electronic treatments of Lisa's vocal trips. The result is a mix of XX century avant-gardism and lysergic atmospheres, a dissonant sinuousness that could be difficult to digest for newcomers, certainly not for those in the know of the author's artistic consistency throughout an unlikely career. It works even better at whisper volume, functioning as a series of ghostly presences that seem to come out of the remote corners of a room accompanied by delirious tweets and gurgling moans. The final and shorter selection "Issue" sees Barnard and Margolis alone - voice cum electronics and processing. It's a gorgeous piece, halfway through the lamentation of my cat Jerry when his stomach suffers after eating a rat (I'm not kidding: he emits a modulated "oyoyoyoy" that verily recalls fragments of this work) and a drugged meeting of yodelling muezzins about to fall into convulsions. What I love most in this man's oeuvre is exactly the eternal suspension between intense experimentation and the will of trying solutions that no academic institution will ever accept as "serious". Needless to say, for this reviewer "academia delenda est". - Massimo Ricci,Touching Extremes
---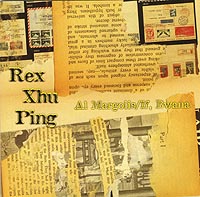 Rex Xhu Ping
Al Margolis is internationally known for his indefatigable activity as a label owner (the historical tape-label Sound of Pig and, of course, Pogus itself) and manager (Deep Listening, XI Records and Mutable Music), but his 20-year old musical alias If, Bwana has gained a cult status as well. "Rex Xhu Ping" presents six compositions featuring Margolis at tapes, electronics and clarinet, with guest musicians Laura Biagi (vocals), Dan (speaker, tapes) and Detta Andreana (tapes, bowed cymbals) and the Orchestre de Fou, an ensemble playing everything from organ to a mysteryous "bikelophone". The six tracks are even radically different from each other, but this doesn't mean the cd sounds incoherent or randomly assorted, which is, I guess, a very positive quality for a composer/performer. The doom-laden "Natraj" opens the album with a looped bass note and screeching electronics, but the sullen atmosphere is soon washed away by "Frog Field", a mix of ecstatic xylophone loops and field recordings, easily the best piece of the disc. "Tattoed Love Muffins" features male/female rants (in English and Italian) over disjointed electroacoustic improvisation, while "Oy vey, Angie", performed by the above mentioned Orchestre, is a dark and beautiful droning piece, another highlight of the work. The last two tracks, "Cicada # 5: Version Bohman" and "Quaderni", experiment on manipulated vocals disintegrating "normal" speech, and would be a suitable soundtrack for some play of Beckett's. As a whole, "Rex Xhu Ping" is a fascinating and almost constantly sombre work, and a successful bridge between historical minimalism and concrete music, and 80's/90's industrial experimentation. - Eugenio Maggi, Chain DLK
Through his amazing detachment and synthetic focus fused with a maniacal analysis and placement of every single sonic detail, once again Al Margolis has found a way to tell us something worthy of "Magna cum Laude" appreciation, such is the uneradicable beauty of his freakish conglomerates of musical literature edging the boiling waters of acousmatic autism.
"Natraj" and the alluring "Frog field" are deviated specimens of hunchbacked minimalism, "Bwana style"; instead, "Tattooed love muffins" sees the scarce light of mutilated speech in a crescendo of creative processing and piercing frequencies - yet, it still sounds like a static block of constantly changing coloured auras. "Cicada #5" is an engrossing performance of Adam Bohman's talking tapes accompanied by a dark underground electronic background, while "Quaderni" is a tape/voice piece exploring more oneiric realms, even if it has a degree of "psychedelic" temperature in its anxious oscillations. But my overall favourite track is "Oy Vey, Angie", where a small group of loonies - "Orchestra D'Fou" - starts from scratch in slowly taking your cerebrum away with a delicious ode to aural mucilage or - if you prefer - a meditation on the contortion of a blind creature's fantasy stimulated by nine entities use their improvising sagaciousness while locked in a tanked aquarium. - Massimo, Touching Extremes
With gluesticked scraps from an old copy of Harold Frederic's The Damnation of Theron Ware gracing the cover, here's another record from one of the most criminally underrated champions of modern avant composition working today, Al Margolis (once more with a rotating cast of thousands – including deific pop singer Joan Osborne, whose hit single "What If God Was One Of Us" will be rattling around your short-term memory like a game of Mousetrap after you read this), whose Pogus imprint is a logical evolution from his home-taping days with his label Sound of Pig. The xylophone loops and current events recordings of "Frog Field" are a welcome ding-dong-ditch rejoinder to the thudding cut off so suddenly on the opening "Natraj", and the nine-piece Orchestra d'Fou on "Oy vey, Angie" plays everything from tuning forks to accordion to cells and trombone, subsequently de/constructed by later treatments to become a stealthy, slightly metallic drone hovering over the proceedings like those triangular USAF fighter craft you've been hearing so much about. "Cicada #5: Version Bohman" finds Margolis and Dan & Detta Andreana re-interpreting the "talking tapes" of Morphogenesis' Adam Bohman. Thrums and drones build behind manipulations of Bohman's purred everyday banalities, which are vaguely reminiscent of the old 1990s bit where David Letterman gave audience members Late Night's predictions for the next hip catch-phrases of the year (e.g. "I'm a sweet little cupcake... BAKED BY THE DEVIL!" or "They pelted us with rocks and garbage!"). Finally, "Quaderni" features Margolis on tapes and processing and Laura Biagi on Italian whispers – now just imagine all the effort it takes to work with tape in these times of instant digital gratification. You think you're bad? Take that unspooled tape you see in the gutter beside the guy selling oranges on your commute home and make a collage by splicing it together by hand. That's bad.– DC, Paristransatlantic
New album from Al Margolis, who decided this time to distinguish his solo work from collaborative ones. First two tracks are recorded by him solely, and these are my favourites: out-of-body and contemplative soundscapes. Al uses tapes, samples and electronic treatment, creating mysterious atmosphere and preparing the listener to his unusual radioplay. In the further tracks there are really some other musicians, known from previous If, Bwana recordings. They are reading texts against the improvisational electroacoustic background. Even if the meaning of wordbook is not always familiar, it's overrided by the depressive surrounding of the longest and, may I suppose, central part "Oy vey, Angie". As the liner notes says, it was recorded live and then completely re-worked in studio. Here we can find a lot of acoustic instruments: accordion, guitar, cello, organ, trombone and even tuning forks - all of them are drifting around each other, creating dense but stirring flow, just like jazz session slowed down and condemned to remain still. Little by little, the piece goes dimensionally and dynamically close to drone-ambient art of fashion. Next two pieces are combining the atmosphere of the two previous ones. Consolidated by impressive. - IEM Webzine

---
33 Birds Went
Five deep, spooky, lengthy tracks cleanly sewn together with samples, tapes, electronics, clarinets, cellos, saxes and voices. Many sounds collide here, but the mood remains low-key-occasionally becoming disorienting in some of the louder passages. Imagine an ambient music that is more organic than much of the strictly pre-fab, synthesized stuff fed to hungry consumers of that genre today, and you have the music of If, Bwana. Calming, but too demanding of the ears to be mere background noise.
---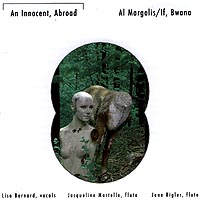 An Innocent Abroad
One thing I love the most about looking at a particular composer is seeing the development that has occurred throughout time. Al Margolis is a perfect example for our comparative study.
It's important to note that neither vocalist Lisa Barnard, flautists Jacqueline Martelle nor Jane Rigler heard the entire "An Innocent, Abroad" piece they've worked on. The forty minute piece centers around Barnard's spooky vocals [she's extorting evil spirits]. She's not chanting any words as such and there is no apparent meaning to the text. All the flute parts were improvised by Martelle and Rigler. The mess of flutes and electronic processing done by Al Margolis is surprisingly coherent. Effect is that of a frightened individual walking through a dark, never-ending, echo-chamber cave. "Issue", which is tacked on to the main piece is a fourteen minute sonic exploration of Barnard's vocal track and Margolis' electronic processing. To utter amazement, this piece tends to surpass the main oratorio in intensity and level of terror. Originally published as a limited 150 copy cassette run [on the French Medicinal Tapes imprint], "Radio Slaves" sees a number of Margolis works that were done between 1984 and 1986. At the time, Margolis was excited as he had just acquired the Casio SK-1 sampler. As the liner notes point out, "It was cheap and easy to use, producing very short loops, probably only up to 4 seconds." These short loops are the meat and bones of this CD re-issue. Listener gets a glimpse of brief vinyl scratches and loops that originated from various radio broadcasts. Taken as a whole, the release is very atmospheric, though highly schizophrenic in nature. What sounds like copper tubes that are struck together is replaced by a radio voice, only to be swallowed up whole by glitchy, industrial clangs. There is a wealth of twisted, highly experimental material on this re-issue, including four bonus tracks, one of which is the diabolically demented "A Condensed History of Religion". Spooky, yet inviting us to revisit it again, "Radio Slaves" serves as an essential reminder of what Margolis was doing very early on in his musical foundation. -
Tom Sekowski, Gaz-eta
Initial opposition is not necessarily something extraordinary for a piece of contemporary composition. In the case of "An Innocent, Abroad", however, the first signs were indeed ominous: First reviews were sceptical, the piece quickly turned up at a playlist called "Difficult Listening" and in the end, German broadcaster WDR, who commissioned the work, decided not to broadcast it. So why, then, does it deserve a second chance?
The most important answer to that is probably that these first impressions were formed on the basis of wrong patterns of expectation. Reviewers tended to find this four-part, fourtytwo minute piece too monochromatic and static – even though Margolis had included the basically unnecessary remark that the music has a strong installation character in the press release. And the WDR decision was prompted by a formulistic conception of what "new music" should comprise or sound like (something, by the way, Germany has always particularly excelled in).
After a first listen, I found both criticisms to be unfounded. For starters, "An Innocent, Abroad" is an incredibly vivid track, a constantly changing space for voice, flutes and electronic effects. Lisa Barnard's lips are forming simple, cooly delivered sentences, random vowls and bewildering howls. They express amazement or unclassifiable emotions and even lend wings to playful melodies, while her two companions Jaqueline Martelle and Jane Rigler imitate owl- and birdsounds, overblow their instruments, while lifting off on fluent thematic lines. Combined with the staggering metallic drones, created by Margolis from the vocal track, the result is a surreal, open, slightly irritating but just as much warm and empathetic piece.
The whole concept of the album also ridicules the "too new musicy" remark. "An Innocent, Abroad" consists of nothing but improvisational contributions, its energies flowing effortlessly and without accademic constraints. Margolis has seemingly left most of the original tapes intact, with the conceptual work mainly taking place before the track was realised. That might put him in line with Cage, but that's it as far as categories are concerned.
Maybe the work was a victim of its own success in a way. Even though it remains open to many interpretations, "An Innocent, Abroad" seems to deal with determinacy and indeterminacy as well as with concentrated listening as opposed to subconscious hearing to a certain degree. The more one directs one's attention to it, the more demanding it gets and the more the at first unconnected motives start to interact at various levels. At a background volume, however, this is distorting Ambient music, warping the environment with a bizarre sense of spatiality and lending itself perfectly to other activities such as reading Burroughs or following various trains of thought.
In the end, things did turn out well nonetheless. More recent reviews have found coherency in the chaos and the WDR simply opted for a different work ("It never rains in Mexico"). Has "An Innocent, Abroad" convinced its critics? Probably not. At its heart, it will remain "diificult listening" to a lot of people. On the other hand, it does go to show once again that first impression is not always accurate – just as much with contemporary composition as with anything else. - Tobias Fischer, Tokafi
---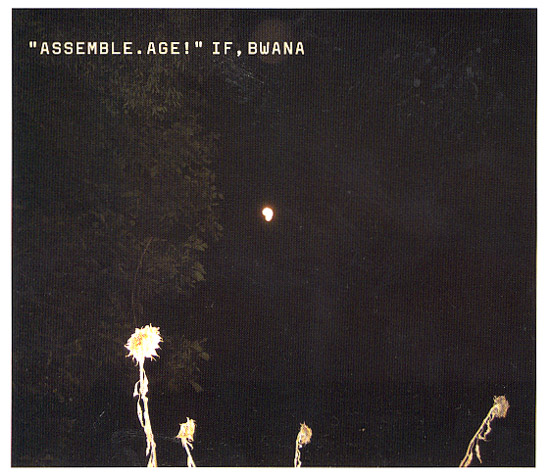 Assemble.Age!
Al Margolis started If, Bwana decades ago, when the cassette was a suitable medium for an idiosyncratic research. Even now that the latter is spelled out by talented musicians and released in technically improved media, it's good to see that an element of slight weirdness – in turn defining a typical feel of unsettlement – still lies at the basis of that craft. The five tracks comprised by this CD represent a partial summary of Margolis' versatility, and a valid illustration of the creative currents pushing his "mutant music" forward, usually via processes of deconstruction and re-assemblage of specific materials.
A remarkable aspect is the ambiguous nature of the selections in which Lisa Barnard Kelley is the obvious protagonist, her tone Рnatural or modified Рembodying chapters such as "DTTO Lisa" and "Death To The 8 Notes" with a mix of anxiety and sarcasm which renders the pieces akin to certain avant-garde of the sixties, minus the museum's dust smell. It almost seems that If, Bwana is mocking some of that era's conventions, though one's not really able to perceive intentionality. What transpires as a certainty is the usual predilection for the lower frequencies, and the mastery in gathering organically droning structures complemented by a clearly detectable improvisational factor. My favourite in that sense is "Cicada #1", which juxtaposes Barnard Kelley's pitches with Monique Buzzarté's trombone, Tom Hamilton's Nord Modular synth, Jacqueline Martelle's flute and the principal's computer to achieve a totality whose biotic jaggedness is pure pleasure for the ears.
Another terrific affair is the initial "Ringing The Bell" – performed by Trio Scordatura – which adds Alfrun Schmid near-cadaveric voiced emissions to a marvellous meltdown of viola (Elisabeth Smalt) and keyboards (Bob Gilmore). An essential discordance characterizing a crepuscular commentary for the decadence of classic counterpoint, just an alternative way for this restlessly impassive gentleman to emphasize a highly individual style. - Massimo Ricci, Touching Extremes
He's back to delight lovers of more "purist" experimentation. Al Margolis - aka If, Bwana Рis an acrobatic audio-artist, active since the eighties, who remains effective and calibrated in the production of concrete techniques, weaving improvisation and deliberation, combining acoustic instruments, eccentric vocals and delicate dissonances. Sequenced organic drones, not free from the influence of certain avant-gardes of the sixties, highlight deep vibrations between the piercing notes of the trombone, synth, flute and computer, in refined atonal passages and overlapping layers of sounds and audio emergences. The project involved a number of musicians including vocalist Lisa Barnard Kelley, Monique Buzzarté, Tom Hamilton, Elizabeth Smalt, Bob Gilmore and Jacqueline Martelle, just to name a few Рall of whom are experienced in moving between hard passages. Listeners are presented with atmospheres that are often gloomily hypnotic and prone to surreal and thoughtful collages, sophisticated in their textures but accessible to anyone willing to pay attention to non-conventional and poetic harmonies. - Aurelio Cianciotta, Neural
If, Bwana, the member-shuffling electroacoustic ensemble led by Chester's Al Margolis, was last covered here in October 2008, via a review of Favorite Encores (Pogus Productions), a split release with composer Noah Creshevsky. The following year saw the release of the project's similarly daring 31 on New York's GD Stereo imprint. And now, with Assemble.Age!, those on the hunt for weird sounds should again prick up their ears, as the new disc finds Margolis's sonically surprising adventures continuing just as intrepidly as before.
Margolis is a musician who straddles the rock and experimental worlds: When he's not clicking away at the programs and processors that collate and mash up the samples used for his If, Bwana guise, he plays bass for long-running art-punks the Styrenes, a band rooted in the same 1970s Northeast Ohio avant scene that birthed Pere Ubu and Devo. Like If, Bwana's last outing, Assemble. Age! draws on the leader's ties to Kingston's forward-thinking Deep Listening Institute to once more feature the voice of DLI artist Lisa Barnard Kelley. The extended centerpiece "Death to the 8 Notes" is a dark tour de force, interweaving Kelly's sinister snickers and unsettling narrative ("I was cut in half at the waist") and Margolis's samples with Monique Buzzarté's swelling trombone, Jacqueline Martell's creepy flute, and Tom Hamilton's squelching synth. But perhaps most revelatory is the all-vocal "DTTO Lisa," in which Kelly's rambling spoken and wordless improvisations are chopped up and reworked into a nine-minute kinetic epic. - Peter Aaron, Chronogram
---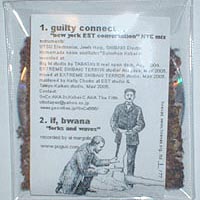 Analogue Smoque
A two-disc release of what you might call decorated voice. Each track features the dramatic poetic stylings of Mike Silverton complimented by electronic sounds by Al Margolis and Tom Hamilton. At times the contrast of human voice and electronics give the impression that Silverton has actually found a way to have a conversation with a computer and this is the proof of their communication. Though Silverton's gentle speaking voice could be telling a bedtime story, his content (a transcript of which you can request by sending him an email) is better suited to fans of abstract poetry. The musical accompaniment is sharp and coolly mechanical. - New Music Box
For an hour and 40 minutes randomly divided into 15 tracks over two discs, keyboardist Hamilton and multi-instrumentalist "sound fingerpainter" Margolis seemingly leave power tools running behind lafolia.com editor Silverton, whose bored recitation of Robert Ashley/Firesign Theater/Tristan Tzara-absurd stories comes off utterly smug. But he knows you know he's smug, which somehow makes him less insufferable, at least when the whirrs and blurs and static threaten to drown him out. His wiseguy bullshit is impolite enough to amuse, though. He loves pervy multisyllabics; he claims inspiration from Proctology Today; he says "underdog" about 40 times; he insists, "This is poetry, not some goddamn seed catalog"; he mentions the war once so "now maybe people will stop calling me an art-for-art's-sake fop." Then on Disc Two, he gives his partners room to record traffic-jam documentaries, reverberate like Emergency Broadcasting System signals, bellow like sperm whales, and roar like elephants in an interstellar bowling alley. - Chuck Eddy, The Village Voice
---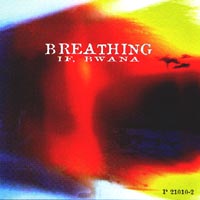 Breathing
First: telegraph wires across the plains. Then a very slow, at first imperceptible rumble, gradually picking up strength, producing an auditory sensation out of which a dijeridu points it's elephant trunk audio, waving towards the dawn in highly stereophonic bursts.
The dijeridu keeps up its recurring screwing and bending of audio, while the cello and the oboe paint aboriginal signs of survival on rocks and tree trunks, while someone whispers in the sand…
This is called Breathing [cello, dijeridu x 2, oboe, tapes, effects], and the way I see it, it is the breathing of dawn, as the body of Earth lies half-awake, the bleak color of dawn spreading across the Outback horizon. The dijeridus sound piercing and penetrating as the light grows in intensity. The creatures of the Outback surface of the planet have to face another day.
This does not have me think about music at first, but rather a jingle jangle thoughtscape, a maze of biological cables and circuits exchanging – or stopping! – messages and visions and shreds of those, as they move around inside the brain at the speed of nerve impulses, scaring whomever carries that brain on top of his body, while his legs cast long shadows in the first morning sun.
Track 2 is R.Ism V.2PF [piano x 2, sampled flute, tapes, electronics]
This also has a very inconspicuous beginning, finally materializing as the echoing sounds of pianos way off somewhere inside a hall, very distant, dreamy, like someone else's recollection of Moriz Rosenthal or Ignaz Friedman at the turn of last century, from 1800 to 1900, planted in your contemporary brain by the unexplainable whim of fate and the powers of delusion, or perhaps as a vision bestowed on you while half awake, half asleep, in that transitory state where you taste death and rebirth while still held firmly against your bed by the pull of planetary gravity; Al Margolis distributing spider webs of transparent electronics.
So far this CD has brought on a strong and elusive scent of dreams, visions and alternate states of mind and life, most beautiful, and, in a peculiar way, deprived of flesh and blood, of body; instead presenting recollections of body, reminiscences of life – of lives – which dance around, fly up and flutter around, only to sink back down into the nameless jungles of oblivion, into soaring, inward voids of forgetfulness; in wonderful, misty displays of Holy Amnesia.
The pianos emit rays of illusive tarantellas, skirts flying in black and white across mud floors, dust rising – but as in a mirage, and that is what this is, yes, I found the proper description of this piece and the earlier ones too, but especially this one: mirage music. If, Bwana has diligently produced mirage music, and it's quite wonderful to be in it without a body, without a certain predicament of here and now, your spirit dissolving into the sea of all those other spirits, dissipating in the light of dawn… as the flute paints calligraphic exclamations against the sun that rises in your mind.
Track 3, the last piece - is called Barump Poc [wind, organ, vocals, cello, strings, tapes].
A brown, softly dawning rumble appears like the organs of Koyaansiqatsi, that magic, ominous music by Philip Glass in the film by Godfrey Reggio (1983) based on the old Hopi saying that something is wrong in the world; there is an unbalance that needs correction. This is also the message that I get from this piece and from the whole CD, it seems. The modal chords of Barump Poc and the angelic voices far off into invisibility further strengthen my desolate, transparent sense of destitution and dissolving reminiscences. So much of the content – the auditory content and the frames of mind of it – sort of pictures a situation beyond correction, when the world of Man has gone so far into perversion that the only qualities left of this world are hidden in visions and memories of bodiless spirits floating in and out of Holy Amnesia – and I get to think about the goldonder Aniara and its 8000 passengers adrift towards the Lyre, lost forever along a never ending trajectory into incomprehensible space, a cocoon of memories for the voids of Deep Space Amnesia. - Sono Loco Review
---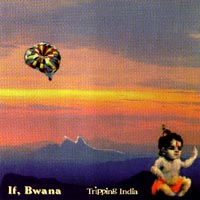 Tripping India
Al Margolis is a man of the utmost creative fantasy, which this compelling music of dreams proves beyond any doubt. Apparently he surrounds himself with wise friends too, who pitch in with design etcetera. The look of this CD alone immediately catches one's attention, which you can see above! Magnificent! Dreamy! Yes, hallucinatory!
Also, you don't often find a contemporary art music CD which relates heavily to The Tibetan Book of the Dead, but this does, setting the atmosphere for the music that evolves, making it quite clear that the sounds emerge out of a Bardo journey, i.e. the transitional period between death and rebirth, when, according to the Tibetan Book of the Dead and Tibetan Buddhism, scarecrows out of our own mind try to steer us off the road towards enlightenment by instilling fear in us.