So we all realize by now that i am a slacker when it comes to keeping up on my web page and announcing things - gigs, releases etc….anyways…here is some new and recent things….hope they are of interest:
Brand new on Pogus - 3 CD set - "Thirty" - with a lot of recent(ish) work
New release on Polish label Nefryt - you can get from them or me on Discogs
http://www.discogs.com/If-Bwana-The-Ice-Moons/release/7082991
Cassette on newly revitalized Generations Unlimited label - electronic works
https://ifbwana.bandcamp.com/album/magnetic-beauty
And a video from Hamburg - as part of the Blurred Edges Festival
Split'n LP - PAAK If, Bwana
An interview by Nate Aldrich for New Music World, based on the 3 cdr set "Thirty", released on Jan 1 2014 to celebrate 30 years of If, Bwana (now 31!!!) as well as a link to "Thirty" on bandcamp
http://newmusicworld.org/2014/12/28/bwana-thirty/
http://ifbwana.bandcamp.com/album/thirty
Plus a couple of new pieces up on bandcamp (with some more to follow soon)
http://ifbwana.bandcamp.com/album/tridox-9
Also a very nice end of year review of the digital only release from this past year - "The Rationale for a Space Telescope"...as well as bandcamp link
http://classicalmodernmusic.blogspot.com/2014/12/if-bwana-rationale-for-space-telescope.html
http://ifbwana.bandcamp.com/album/the-rationale-for-a-space-telescope
I also released a cdr and download "Tibetan Belles" on Hal McGee;s label - review and link below
http://aural-innovations.com/blog/2014/12/if-bwana-tibetan-belles-haltapes-2014-cdrdl/
http://halmcgee.bandcamp.com/album/tibetan-belles
More music - cdr on the Buh Records label out of Peru
http://buhrecords.bandcamp.com/album/br59-if-bwana-toys-for-timo
And this is a couple of years old now - but the link just reappeared through Twitter, and so here was another interview - this one by Nate (!) Wooley, and includes some Pogus samples to listen to as well
http://soundamerican.org/al-margolis-and-pogus-productions
An overview (mostly written by me) of 30 years of recording with a great intro by Tobias Fischer
www.tokafi.com/news/odd-preoccupations-if-bwana
Nice review in Avant Music News -
avantmusicnews.com/2013/12/18/amn-reviews-if-bwana-e-and-sometimes-why/
Our old pal Hal McGee has posted first If, Bwana tape for download here:
causeandeffectk7.bandcamp.com/album/freudian-slip
Here though are the recordings from Nov. 15 gig at the Spotty Dog in Hudson, NY - Tough Day Tubing (myself, Crank Sturgeon, Walter Wright and Steve Norton)
SET 1 - http://wgxc.org/archives/7260
SET 2 - http://wgxc.org/archives/7261
And from the London gig, with Adrian Northover, a bit of video
http://www.youtube.com/channel/UC5UzbYWN4yFhnIUsFGHhJ8w?feature=watch
If, Bwana live in Paterson, NJ March 17, 2013 joined by John Korchak on Many Many Flutes and Steve Roe and Kevin Geraghty on Frogfield and Massed Roses
And from our dear friends in Augsburg, Germany this release from the live set we shared and played together on July 4, 2012
http://attenuationcircuit.wix.com/attenuation-circuit#!__crossgrained
http://emerge.bandcamp.com/album/crossgrained
These are works from 2010 and 2012 in Topolo, Italy: http://archive.org/details/oz062

Video of Experimenta 4 performance:with leslie ross on bassoon - katherine liberovskaya did live video that evening: https://vimeo.com/51538359


The following 3 are reissue with bonus material of Organ Life cassette (SOP 166)

http://nostalgiedelaboue.bandcamp.com/album/organ-life-extended

http://nostalgie-de-la-boue.blogspot.com/2012/10/if-bwana-organ-life-extended.html

http://www.discogs.com/If-Bwana-Organ-Life-Extended/release/3809636
The following book by Thomas Bey William Bailey: Unofficial Release: Self-Released And Handmade Audio In Post-Industrial Society
focuses on cassette network, mail art etc - interviews (including one with me) and essays about that sort of thing...you can check the following link and get the book....
www.tbwb.net/unofficial_release.html
Live in Leuven July 2011:
http://archive.org/details/IfBwanaLiveInLeuven
On Echomusic (Greece) download only release - reissue of Moose y Squirrel with extra track:
http://echomusicrecordings.wordpress.com/online-releases/if-bwana-moose-y-squirrel/
Bandcamp page:
http://echomusicrecordings.bandcamp.com/album/moose-y-squirrel
High quality wav files:
http://archive.org/details/ifbwana-mooseysquirrel

download release of laptop duo with Doug Van Nort out on Zeromoon
http://www.zeromoon.com/releases/al-margolis-doug-van-nort-live-from-dli-zero126/
video of live set at nomadenetappe, LInz Austria July 2012
http://www.dorftv.at/videos/nomadenetappe/4713

Also new on Pogus the 2 cd set: E (and sometimes why)
http://www.pogus.com/21062.html

and on Monotype Records
http://www.monotyperecords.com/en/mono042.html

(here's a review)
If, Bwana / Dan Warburton
I AM SITTING IN PHILL NIBLOCK'S KITCHEN
Monotype
"The title is an evident reference to Alvin Lucier's I Am Sitting In A Room and also to Dan Warburton's rather obscure Absurd release I Am Not Sitting In A Room With Reynols. This is the studio version of a piece conceived in 2008 for a concert in Ghent; Phill Niblock has a house in the Belgian city, and the record was mixed in his kitchen. The main constituent is a ?dense sludge? of all the records by If, Bwana owned by Warburton, who subjected them to a thorough stretching to make them last exactly 45 minutes. Al Margolis, in turn, superimposed an alteration of Warburton's pianistic rendition of a score by Guy Livingston, ?Speed Study I?. Local noises, both domestic and external, were also included. After this long explanation, you still won't be able to guess how the whole sounds, and indeed it's quite difficult to compare the product to anything else, if not by using terminologies suitable to the murkiness of the sonic tissue. The general feel is one of charged oppressiveness, as if someone had just told you that there will be no reasons to smile for a week. Appreciating the quietly rumbling mass of permuted frequencies is not a prohibitive task, but it's the way in which they engage with the numerous vocal ghosts appearing throughout the set that gives the music its character, which remains sinister to the end. A cultivated jumble of disfigured talking heads engulfed by a subsonic nimbus blemished by the kind of acoustic grime often found in Asher's work. Not a concession to redolence of any kind, not an opening for the faintest light, a lot of indecipherable clandestine happenings. An example of introvert audio art that does not warrant immediate communication, leaving the listener with very few certainties about the whats and the whys." -Massimo Ricci
Cdr release from this past summer's tour - Live in Leuven - on Lonely Whistle....
http://web.me.com/doncampau/doncampau.com/lonely_whistle_2011.html
from the Spotty Dog gig and Sam Sebran (thanks) -
Frog Field - http://www.wgxc.org/archives/3464
and Massed Guitars (with Anastasia Clarke on guitar) - http://www.wgxc.org/archives/3465
and here is link to new download release of my laptop duo with Doug Van Nort....just out on Zeromoon
http://www.zeromoon.com/releases/al-margolis-doug-van-nort-live-from-dli-zero126/
a couple of new reviews for releases/reissues on the Vuz label...link below: theser are from Vital Weekly...
IF, BWANA - WAH YU WAN (cassette by Maneko Neko)
Just two weeks ago we reviewed a new 3"CDR by If, Bwana on Bastets Kitten, a new, further expansion of the world of Vuz Records. Another addition to the family is a cassette only label by the name of Maneki Neko tapes and here too is the first release by If, Bwana. It is actually a re-issue of the only LP ever released by If, Bwana, on Generations Unlimited. In a sort of sick twist (I guess), the tape has two versions: a remastered version from 2011, and on the other 'an untouched recording of the vinyl'. I am not sure if ever heard the vinyl back then - I may have - and this is I guess from the time when Al Margolis, master-mind of the bwana, made that cross-over from home made tape manipulations towards exploring improvised music with other people. Here he gets help from people like Dan Andreana (saxophone, guitar), Frederik Lonberg-Holm (cello), Brian Charles (clarinet, didjerdu, oboe), Detta Andreana (piano) and Joan Osborne (vocals), whereas Margolis plays synthesizer, sampler, violin, french horn, piano, clarinet, tape and effects. It doesn't have yet the refinement of his latter works (starting with that fine CD in the Anckarstrom series, only a year or two later, I think), but still has that somewhat raw character of noise music, but then played with a lot of acoustic instruments - such as in the title piece (if I counted right, with a cassette this is never easy). Yet this isn't all out noise, but playful noise, stemming from the world of improvisation, acoustic and electronic, and has an unique touch to it, which one rarely find these days and perhaps also not in the days when this was released, 1990. An essential item from the If, Bwana catalogue, a turning point in his career, and finally resurrected. Maybe a CDR/CD would have been more in place for this delicate noise, but cassette will do also. (FdW)
Address: http://www.vuzrecords.de
IF, BWANA - 16 LIVE/CICADA #3 (3"CDR by Bastets Kitten)
There has been a strong connection between Vuz Records and If, Bwana, resulting in various old and new releases over the years. Here Vuz starts up another branch, Bastets Kitten (Bastet already being a CDR division), especially for the release of 3"CDRs. Al Margolis, for it is him behind If, Bwana, offers to pieces of 'all other sounds, processing' and Monique Buzzarte on trombone. These days quite a common feature: someone playing a real instrument, and Margolis on processing, thereby working in the field that can be regarded as a cross-over between modern composition and improvisation. Both pieces should be seen as companion pieces, I think. '16 Live' is quite dense with many layers of trombone, sparse electronics and a slow bass-like sound, which slowly builds up. 'Cicada #3' has repeated electronic sound, maybe a very slow sequencer, and the trombone sounds are more spaced out, also a bit less in quantity. Although both are very close, I think I preferred 'Cicada #3', with its just more dramatic build-up. But '16 Live' is a fine piece as well. Two excellent pieces of modern composed/improvised music. (FdW)
Address: http://www.vuzrecords.de
A couple of quick things - Holger at Vuz has been issuing and reissuing some If, Bwana material - here is link - http://vuzrecords.de/newf.html -
and as a sample of the tour....in Bocholt, Germany with Adam Sebesta....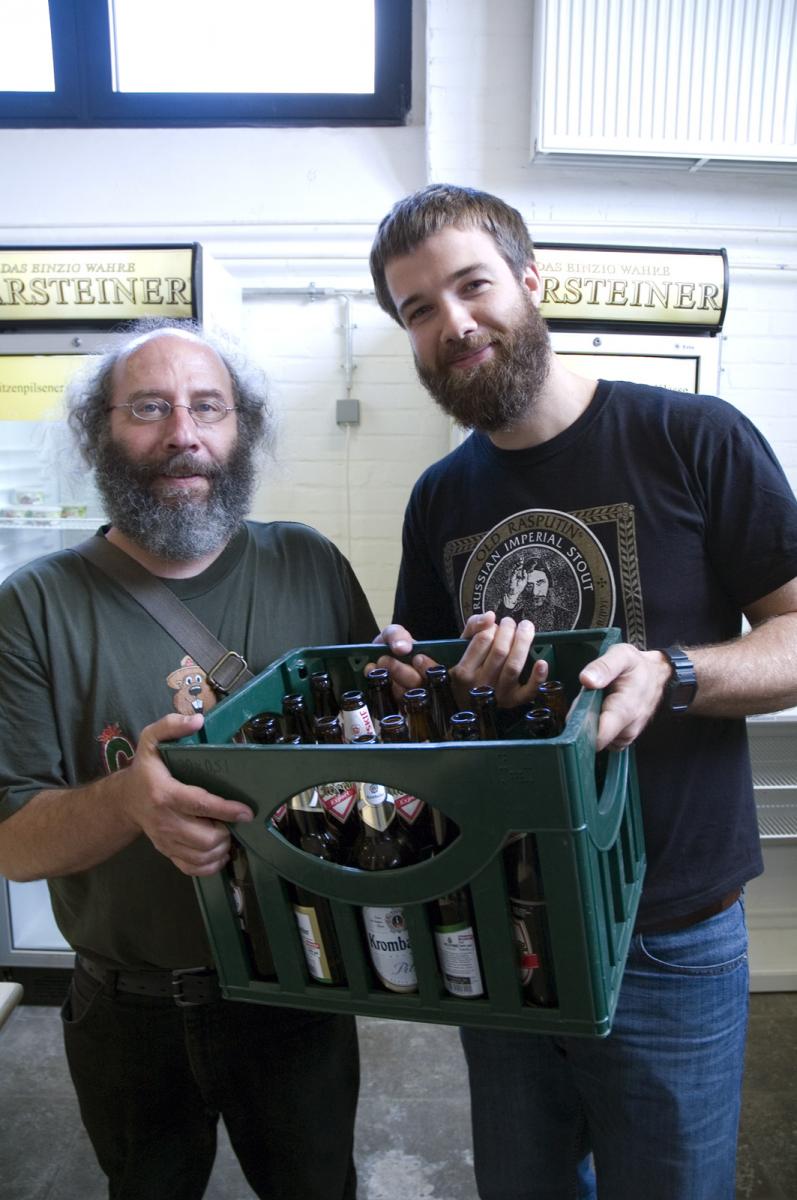 A new and ongoing collaboration with Doug Van Nort... Live Outakes
If, Bwana with Hal McGee, Travis Johnson, & Bryan Eubanks on April 30 at The Laboratory Gainesville